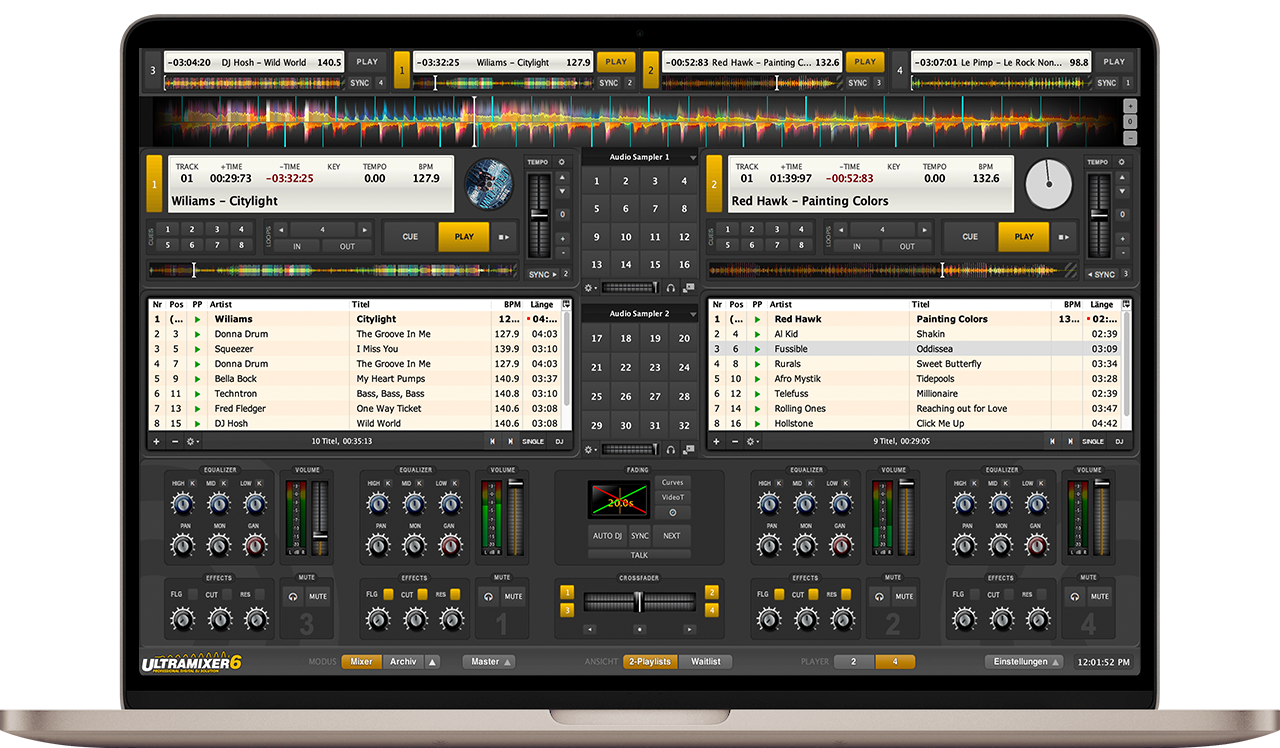 Parties & Events
with UltraMixer Auto DJ
Set up your Playlists and start your Party!
UltraMixer Home has all features you need to start in the world of digital DJing and play music at the next house party.
Import your playlists from iTunes or Apple Music, create your own DJ-Mix or use the "Auto DJ" and play your songs like a Jukebox in the background.
Add digital effects to improve your transitions, use the Audio Sampler to fire sound samples and adapt the speed like a DJ.
An upgrade from UltraMixer 6 Home to a higher version like Basic or Pro Entertain is always possible.
Dancing Schools
Music Software with Remote Control
The UltraMixer Software works great for Dancing Schools around the world!
Organize your music within the FileArchive, edit ID3 Tags to match any dancing style to each song, and adjust BPMs, TPMs, and time signatures.
With intelligent groups and multiple search tools, you can easily filter through millions of songs on your hard drive and load them to your playlists. The Auto DJ will then automatically play your songs.
Focus on your students – not your laptop: with the UltraMixer Remote App, you can connect your Smartphone to the UltraMixer Software. Just pause and play whenever you like while teaching new dance moves!
Mobile DJ
Audio, Video & Karaoke
UltraMixer 6 Pro Entertain is a professional DJ Software with all the Entertainment Features you need: delight your audience with Videos, Slideshows, Visual Effects, and Live-Text while playing your guests' favorite songs.
Use your favorite MIDI Controller to mix your music, set up some Microphones to make announcements, and even connect UltraMixer to the MADRIX Lighting Control Software. The Remote App for Smartphones gives you control over your Players while enjoying a short break from your Laptop.
Multitasking Abilities: synchronize and blend your music automatically between 4 Players while adding Cue Points and Effects, pre-listening to songs, or loading titles to your Playlists. You can even integrate your audience with the help of a Live-Camera or make announcements by showing "Live-Text" on a flat-screen or a video wall.
| | | | |
| --- | --- | --- | --- |
| Features | Home | Basic | Pro Entertain |
| Mixing | | | |
| Big Waveform | ✔ | ✔ | ✔ |
| Mini-Waveforms | ✔ | ✔ | ✔ |
| Two Player Mode | ✔ | ✔ | ✔ |
| Four Player Mode | | ✔ | ✔ |
| 2 Playlist Mode | | ✔ | ✔ |
| Waitlist | ✔ | ✔ | ✔ |
| Wishlist | ✔ | ✔ | ✔ |
| Pre-listening | ✔ | ✔ | ✔ |
| AutoDJ | ✔ | ✔ | ✔ |
| Crossfader & Equalizer | ✔ | ✔ | ✔ |
| Video Mode | | | ✔ |
| Master Equalizer | | | ✔ |
| Automatic Gain Control | | | ✔ |
| FileArchive | | | |
| BPM Analysis | manual | manual | automatic |
| iTunes Import | ✔ | ✔ | ✔ |
| Export | ✔ | ✔ | ✔ |
| Search Methods | ✔ | ✔ | ✔ |
| Entertainment | | | |
| Recording | ✔ | ✔ | ✔ |
| Widgets | ✔ | ✔ | ✔ |
| Special Effects | ✔ | ✔ | ✔ |
| AudioSampler | 16 Slots | 32 Slots | 32 Slots |
| VideoSampler | | | ✔ |
| Music & Karaoke Videos | | | ✔ |
| Slideshows | | | ✔ |
| Visual Effects | | | ✔ |
| Streaming & Broadcasting | | | ✔ |
| Supported Hardware | | | |
| Multiple Sound Cards | | ✔ | ✔ |
| Multi-channel Sound Cards | | | ✔ |
| MIDI Controller | | | ✔ |
| Madrix Lighting Control | | | ✔ |
| Network Camera | | | ✔ |
| Network Mode / Multi-Instance Mode | | | ✔ |