Mixer Mode #
In the Mixer Mode, you will have full control over all the UltraMixer mixing features. You can change your equalizer, effects, and volume settings for each player and directly access the crossfader tools.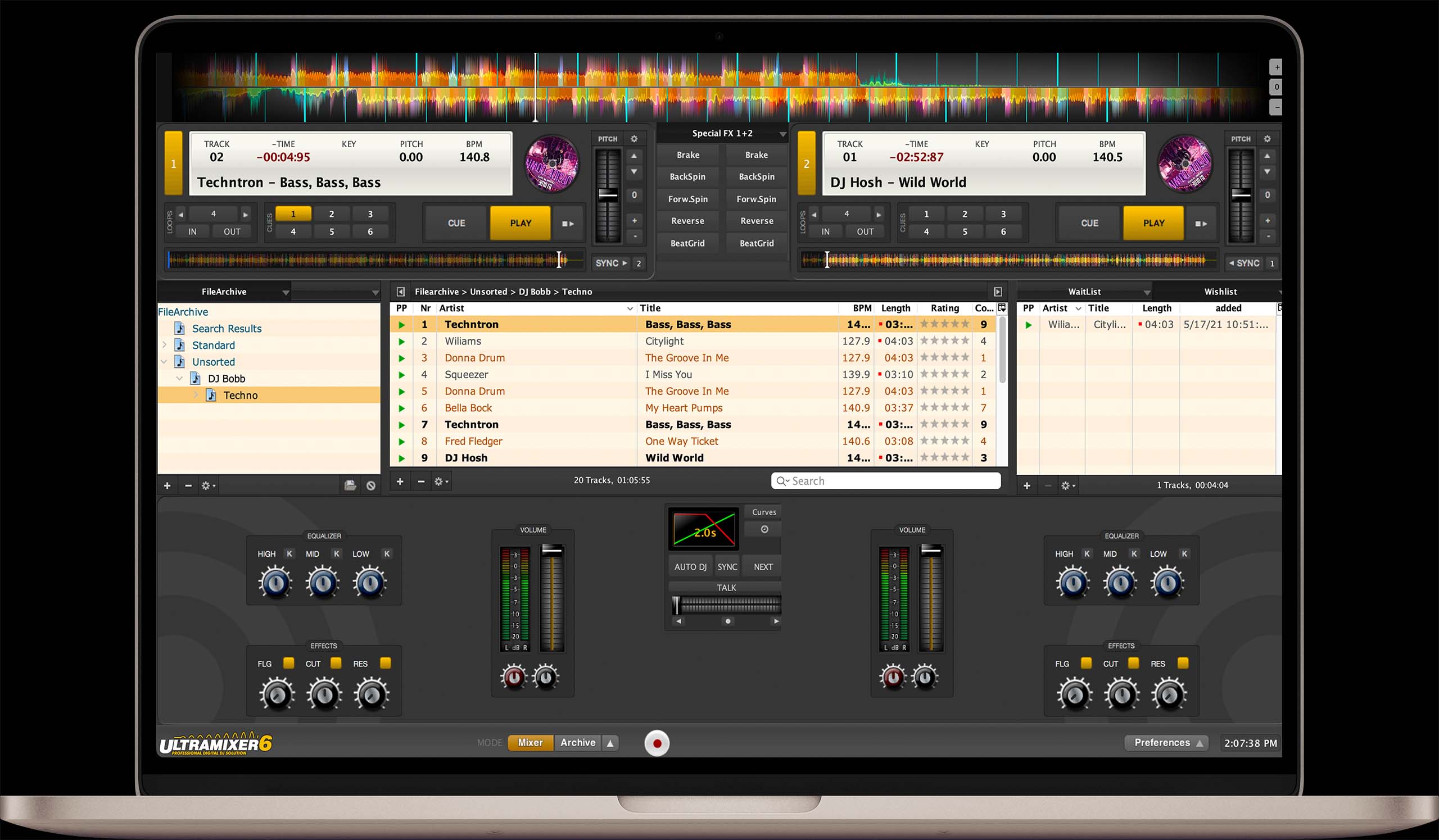 Archive Mode #
In the Archive mode, you can focus on your FileArchive and the music files. This view is great for editing and sorting your files when preparing for your next event.
Of course, you could still activate the Auto DJ in the Mixing Mode and add your songs to the Waitlist to play background music while editing, or just enable the Crossfader in the widget panel.
Mixing Waveform
#
The waveform visualizes the audio signal of the currently played titles. You can hide the waveform by using the menu "Preferences" in the lower right corner. If you uncheck the box, the waveform will disappear.
Sound players
#
Load your music files in these sound players and play your songs from the playlists or your FileArchive. The sound players are the central area of the software and can not be hidden.
Waitlist
#
The waitlist contains the prospective titles of your sound players in one single list. With the navigation bar, you can easily switch between this 1-Playlist-view and the normal 2-playlist-view.
Wishlist
#
The wishlist is a list of requested songs. This gives you the opportunity to save wished titles and load them into the playlist when needed.
Mixer
#
Together with the sound players, the Mixer is the main element of UltraMixer. With the Mixer you can vary the volume, timbre, and tone color of your songs. The area of the Mixer can be replaced by the Master or the FileArchive by switching the views in the navigation bar.
FileArchive
#
The FileArchive is a database that is used to organize your audio files. This area can be exchanged by the Mixer and Master by switching views in the navigation bar.
Navigation bar
#
The navigation bar is another important part of the UltraMixer interface. Here the user can adjust the displayed areas. The user may choose between the fields of Playlist and Waitlist or Master, Mixer, and FileArchive.